Trading With Excel
Learn how to trade with the world's most popular spreadsheet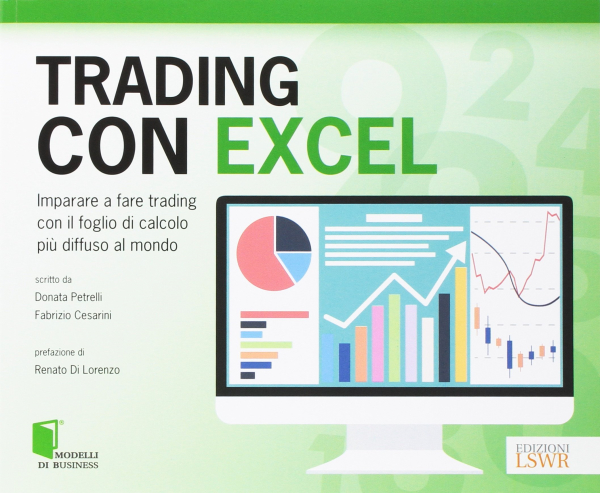 Title : Trading With Excel
SubTitle : Learn how to trade with the world's most popular spreadsheet
Authors : Donata Petrelli e Fabrizio Cesarini
Foreword by : Renato di Lorenzo
Publisher : Edizioni LSWR
Edition : First Edition
Publication Date : March 2017
Binding : Paperback
Size : 24×17 cm
Pages : 216
Series : Business Models
Language : Italiano
ISBN-10 : 8868952726
ISBN-13 : 978-8868952723
For some years now, there has been a sharp increase in interest in the financial markets, including from non-experts. Never before have markets offered countless possibilities, thanks also to the web, but they also conceal a series of pitfalls that should not be underestimated. That's why it's increasingly important to have good technical training, together with awareness of your choices.
Today online trading has become a real job for millions of people and especially a great opportunity for everyone, thanks to the proliferation of products and services that make financial instruments easily accessible.
The purpose of this book is to bring people closer to this reality by explaining, in a simple and concrete way, some of the main tools behind the trading. All this using a powerful, flexible and familiar tool like Microsoft Excel, together with the data available in the cloud.
Chapters
Chapter 1: Finding Data
Chapter 2: Viewing Data
Chapter 3: Data processing
Chapter 4: Advanced processing tools
Chapter 5: Forecasts
Chapter 6 : Management
Main Topics
Excel and advanced functions
Financial data and Data Sources
Basic and advanced charts
Technical analysis
Watchlist
Portfolio
Trends
Forecasting
Pivot Point
Fibonacci
Statistics
Supports and resistances
Heikin Ashi
Buy on
More informations
For any information about this book you can contact the editor LSWR or directly the authors with my Linkedin Profile